SPONSOR THE 48TH ANNUAL CONFERENCE!
JOIN US AT THE HYATT ORANGE COUNTY | FEBRUARY 21-23, 2024
ACCCA, the Association of California Community College Administrators, is the foremost member-supported professional organization for administrators and managers of California's community college campuses. Comprising73 districts and 116 colleges, the California Community Colleges make up the largest higher education system in the nation — providing a gateway to higher education for over 2.1 million students per year. ACCCA seeks to provide its members with services, benefits, products and programs that will enhance their professional lives.
View the full sponsor prospectus HERE.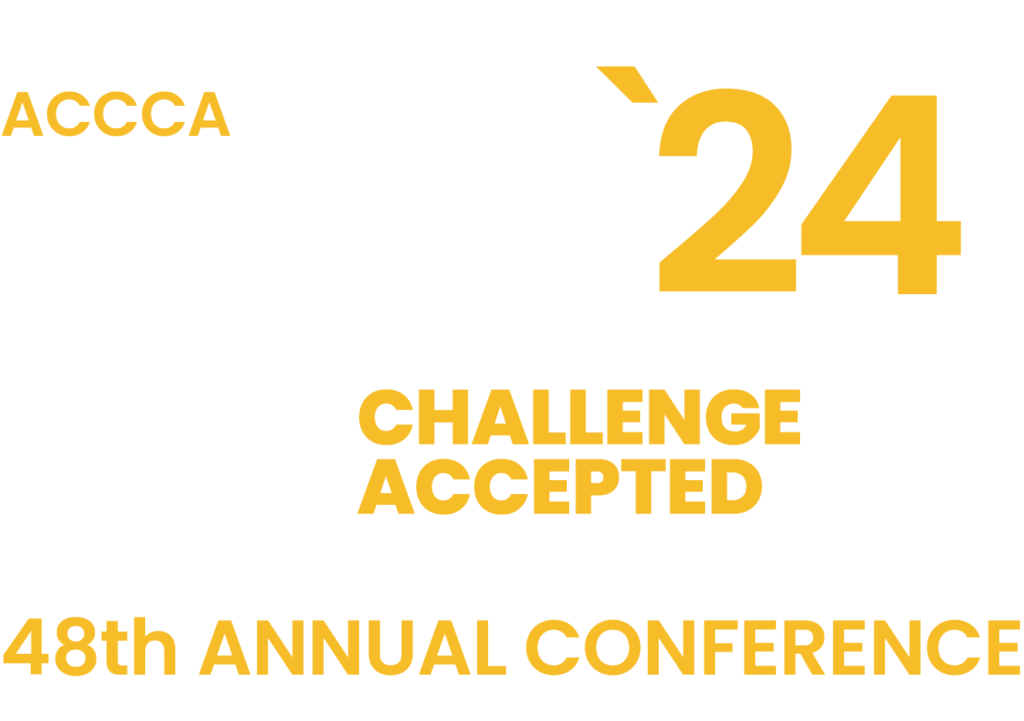 DEADLINES
Registration Deadline | February 2, 2024
Cancellation Deadline | January 24, 2024
Deliverables Deadline | January 26, 2024
WHO ATTENDS THE ACCCA ANNUAL CONFERENCE?
We anticipate more than 350 community college leaders from throughout the state of California. It's the only place you will reach a variety of top-level administrators – administrative services, fiscal, human resources, student services, technology and more.
DIAMOND LEVEL
PLATINUM LEVEL
GOLD LEVEL
SILVER LEVEL
BRONZE LEVEL
BRONZE LEVEL
ADVERTISING PACKAGE
DIAMOND LEVEL
DIAMOND SPONSOR LEVEL

$5,000
Six Opportunities
Speaking Time | Three (3) minutes
Sponsored Event | Receptions and the Registration Area Co-Sponsored
Logo featured prominently on signage of sponsored events
Sponsor Table | Includes electricity and basic Wi-Fi
Full-screen digital ad
Opportunity to provide brochure or give-away in registration area
Ability to send two (2) push notifications from conference app
Banner ad with external linking in conference app
Custom Card with external linking in conference app on home screen
Pre-conference Attendee List provided one week prior to the conference
Includes three (3) conference registrations

All sponsorship levels come with the Bronze Sponsorship benefits.
PLATINUM LEVEL
GOLD LEVEL
SILVER LEVEL
BRONZE LEVEL
BRONZE LEVEL
ADVERTISING PACKAGE
ADDITIONAL CONFERENCE REGISTRATIONS
Sponsors will be limited to purchasing no more than three (3) registrations over the number included in the sponsorship package. Additional registrations may be purchased for $495 (through 1/15) and $595 (beginning 1/16 and on-site).