For deans within the first five years of their career, this cohort-based program draws from the expertise of thought leaders and seasoned administrators from around the state, and it provides mentorship, an established knowledge base and technical skill building, with a focus on your leadership development. 
Each year the Great Dean's cohort members work together to build trusting networks of support as they successfully navigate their professional and personal journeys and complete the program with a solid foundation to succeed as effective, equity-focused administrators who are prepared to execute their short and long-term career goals. 
The Great Dean's Program curriculum includes key areas of focus including:
Equity and Social Justice

Supervision and Leadership 
Administrative Policies, Procedures, and Structures 
Networking, Community Building, and Personal Wellness 
Program Includes:

The 8-month program begins with

a three-day Institute

in Sacramento, July 19-21, 2023

Two regional in-person all-day workshops

are scheduled in October and November (Northern or Southern California)
All-day pre-conference training

at the Annual ACCCA Conference in Orange County, February 20, 2024 
Virtual intersession check-ins throughout the year (optional)
Please note the policies around our selection process:
ACCCA can extend this training to 35 attendees.
All applicants to the Great Deans program must go through a vetting process and be selected by a designated team of volunteers and staff based on criteria established by the Management Development Commission (MDC).
The program fee is $1750 and you must be an ACCCA member to attend.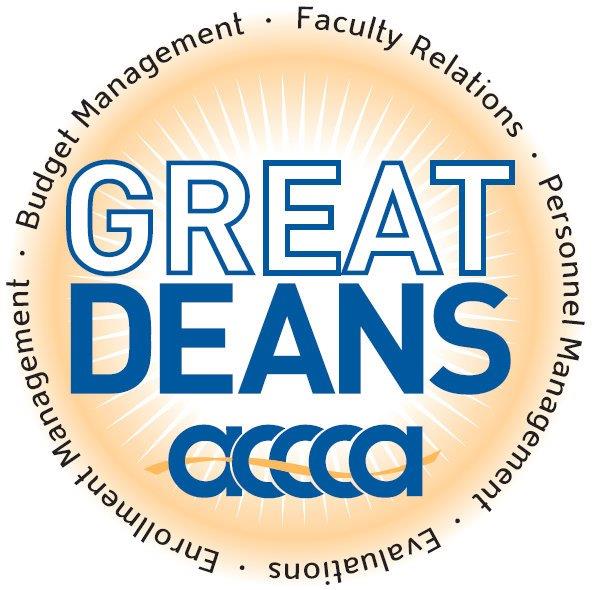 July 19-21, 2023
Sacramento Kick-off
Applications are now closed.
If you are interested in being notified for the next session, please add your name to the interest list.
"The Great Deans program provided incredibly valuable training and networking opportunities to me as a new dean. The year-long program allowed for deep learning and growth within a comprehensive range of topics, something not possible in shorter professional development formats. Furthermore, it allowed me to develop strong connections with other community college deans who have become resources, as well as friends, I can rely on."



Dr. S. Erin Denney,

Dean of Communication Studies, English, World Languages, 

and Fine, Applied, & Communication Arts, 

City College of San Francisco