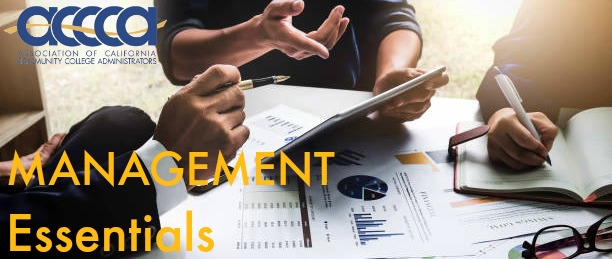 Management Essentials
October 21, 2022 - 8am to 4:15pm
San Joaquin delta College
This one-day regional training program was developed based on recent surveys and feedback from administrators about the essential skill sets needed for today's community college administrators. 
A key finding in the data drove the development of this program:  being an effective manager is essential in a political environment, but it isn't enough to be successful.
Management Essentials is intended for administrators and managers who need to hone or acquire these skills and practices and our core content is centered on:
How to manage up, down and sideways

How to extend your influence throughout the organization
How to forge strong ties to build momentum

At this edition of M.E., we will turn to a diverse group of seasoned and dynamic professionals who will provide focused training backed by lived experience on four key topics:

Leadership through an Equity Lens

Culturally Responsible Strategic Enrollment Management
Building your Support Network
Nurturing Resilience in the Workplace

This program is intended as an interactive experience, and participants will be encouraged to share their own perspectives in a safe learning environment.

The date is October 21st and the location is the San Joaquin Delta campus.  The cost is $150, and includes all materials, breakfast, lunch and refreshments.  Details on parking and the final agenda will be provided to registrants in advance.  
A Tentative Schedule of Events:
8:30 a.m.    Welcome Remarks preceded by a 30-minute networking breakfast
9:15 a.m.      Session 1:  Leadership Through an Equity Lens
10:30 a.m.   Break
10:45 a.m.   Session 2:  Culturally Responsive Strategic Enrollment Management
12:00 p.m.   Networking Lunch
1:00 p.m.     Session 3:  ACCCA Table Talk: Building Your Support Network
2:15 p.m.     Break
2:30 p.m.    Session 4:  Nurturing Resilience in the Workplace  
3:45 p.m.    Closing Remarks/Reflections
October 21, 2022 – San Joaquin Delta College
February 21, 2023 – ACCCA Annual Conference – Rancho Mirage
Registration is now open!
Register online and reserve your seat! 
Space is limited and fills quickly.