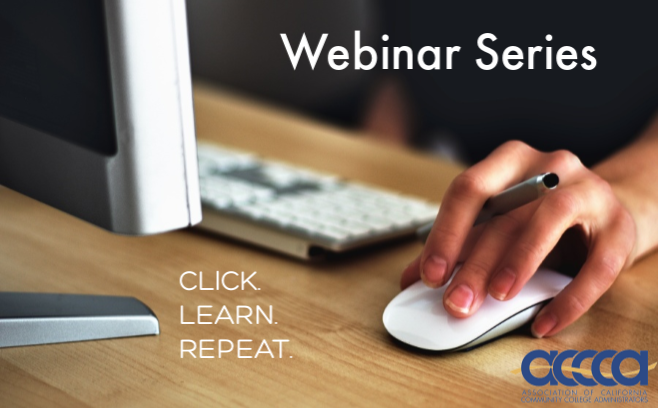 To provide administrators with ongoing professional development, and to directly address some of the challenges they are experiencing, ACCCA has partnered with the Foundation to produce a webinar series based on information administrators are telling us they need right now. Future webinars are being developed now, but please take the survey and tell us what information or training you'd like to see in future presentations. Your feedback will drive the content of the free webinars and the information will be available to access after the event.
Upcoming Free Webinars: Mark your calendars!
Stay tuned for the next exciting webinar announcement!
The Complicated World of CCCs and Remote Workers

Improving Workforce Diversity Through The Interview Process: The Good Questions, The Bad Questions, & The Very Bad Questions 

So Now You're On the Bargaining Team – What Next?

Beyond Stressed: Coping With the Pressure of Uncertainty

Beyond Basic Needs:  Sustaining Student Support Programs After the Crisis 

Social Media for Administrators with Kerry Rego

ACCCA Professional Development Introduction

Best Practices for Remote Job Search & Hiring Processes 

"How to Have Difficult Conversations About Race in the Workplace"
Webinar sponsored by CampusLogic. 

Leading Remotely: A Primer for What Community College Managers Need to Know

2020 and The Year of the Great Pivot: How Administrators are Adapting for Students
Adrift in a Pandemic: Survey of 3,089 Students Finds Uncertainty About Returning to College
Rewriting the Rules & Practices of Administrators in Community Colleges After Covid-19