The ACCCA Mentor Program is a statewide, year-long learning opportunity that provides an invaluable personal and professional development experience. Program participants are selected for demonstrating a potential for expanded leadership roles in their current, or future, responsibilities within the California community college system.
Goals of the ACCCA Mentor Program
To identify administrators, faculty and staff who have demonstrated a potential for expanded leadership roles in their current responsibilities with the California community college system.
To provide learning experiences to expand and enhance participant's current leadership skills and abilities.
To offer appropriate training for administrators.
To provide participants with a network for career opportunities.
To encourage Mentor Program participants to seek expanded leadership opportunities within their regions or the statewide system.
To assure the availability of a diverse pool of skilled leaders for the future administrative needs of the California community colleges.
To encourage the networking of participants inter-regionally in support of improved working relationships and communications across the state.
Program Activities for the upcoming 2023-24 Cohort
To be accepted into the ACCCA Mentor Program you must agree to participate in all mandatory activities including: 35 hours of training, two annual conferences (orientation and graduation), the Spring and Fall Retreats, a Day with the Chancellor, and the Budget Workshop. The fee for the 2023-24 Mentor Program is $1500 in addition to being a dues-paying ACCCA member.
Kick-Off Meeting at the 2023 Annual Conference: February 22-24, 2023 in Rancho Mirage (registration and accommodations are paid by the participant.)
Admin 101: July 2023 in Irvine (Not required or included in program fees, but highly recommended. As a Mentee, you receive a considerable discount off the cost to attend Admin 101.)
Spring Retreat (North & South – included in program fees.)
Fall Retreat (North & South – included in program fees)
Day with the Chancellor: January 2024 in Sacramento (included in program fees)
Graduation (at the Annual ACCCA Conference): February 2024 (registration included in the program fee/accommodations are paid by the participant.)
Being a Mentor
The role of the Mentor is to serve as a guide, role model, colleague and expert to their Mentee. The Mentor guides the Mentee in the development and completion of their learning contract, exposes their Mentee to new and complex administrative tasks and processes, teaches their Mentee how to learn new administrative skills on their own campus, and introduces their Mentee to higher-level management systems and practices. Additionally, the Mentor frequently gives advice to their Mentee in the preparation of application materials and interviews for promotional community college administrative positions.
ACCCA Mentees and Mentors develop an excellent, caring network of highly competent professional colleagues in the State. Many of the relationships that developed when the program began in 1988 still flourish today.
The ACCCA Mentee Retreat and other Mentor Program activities are heavily participation-oriented with an emphasis on skill building and collaborative learning. Each Mentee completes a learning contract, which has a strong leadership component, encouraging participants to immediately apply knowledge, principles, and skills acquired or enhanced through the ACCCA Mentor Program. Mentees are responsible for arranging at least four face-to-face meetings with their mentor.
For more information on the Mentor Program, contact the ACCCA office at (916)443-3559.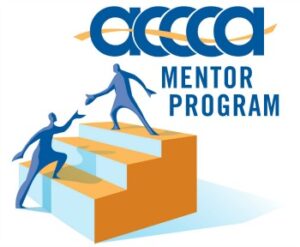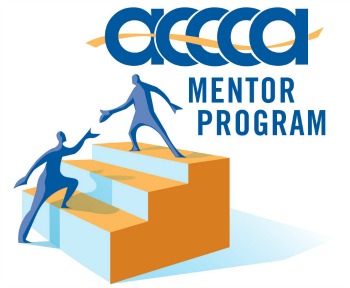 Place your contact information on the interest list to receive notification when applications open for the next cohort.