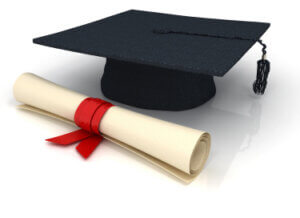 Would getting a doctorate help boost your career? Are you considering taking "the big step"?
ACCCA's Doctoral Matrix offers a list of universities with doctoral programs. Many provide courses at night and on weekends and encourage working community college administrators to apply for admission. This list is only a guide to give you an idea of what's out there. For example, the length of time it will take to complete a program depends on the availability of courses, how quick a student progresses through the requirements and writes a dissertation. Also, be sure to check with the institution for updates on cost and prerequisites. 
Please note that information on the Doctoral Matrix may not be the most up-to-date – visit the specific resource website for current cost and admission requirements. 
If you would like to have your college listed in our matrix, please email the webmaster with your program information.
University
Degree
Admission Requirements
Units/Cost
Length
Comments
Contact Information
Alliant International University
EdD in Educational Leadership and Management
Doctor of Business Administration (DBA)
PsyD in Organization Development
PsyD in Educational Psychology
PhD in Organizational Psychology
PhD in Leadership
PhD in Psychology, Public Policy and Law
Juris Doctorate (JD)
EdD in Teaching English to Speakers of Other Languages (TESOL)
View admissions requirements here.
View tuition information here. ACCCA members receive a 15% tuition savings.
Varies by program
in-person and online programs that prepare you to pursue your personal and professional goals. Multiple start dates during the year.

AVP, Partnership Development

(858) 635-4633

Argosy University
Ed.D., Community College Executive Leadership
Ed.D., Educational Leadership;
Ed.D., Instructional Leadership
View admissions requirements here.
$859 per credit hour
(60 hour minimum)
3 yrs
Argosy offers a combination of online and on-campus courses to meet the needs of working professionals.

Dr. Dina Brown, Program Chair

(714) 338-6258

Aspen University
Ed.D., Leadership & Learning – focus on Healthcare Admin., Higher Ed. , K12, Org. Leadership, Org. Psychology
View admissions requirements here.
$450 per credit/60 minimum credits
$27,000 tuition plus fees
3-5 yrs
Program designed to meet the unique & individual needs of professionals from around the world.
Steve Crask
Director of Enrollment, Doctoral and Alumni
(855) 284-2706
(303) 823-4209
Brandman University
Ed.D., Organizational Leadership
View admissions requirements here.
$985 per credit
2 yrs
ACCCA scholarship available (10% off)

Dr. Tod Burnett, Interim Dean, School of Education

(949) 341-7631

CSU, Fullerton
Ed.D. Educational Leadership
View admissions requirements here.
60 units minimum
Tuition Info
3 yrs
If you are interested in the Ed.D Program and would like more information please fill out the online Interest Form.
Raquel Pina-Holmstrom
Admissions & Academic Advisor(657) 278-4023
CSU,
Long Beach
Ed.D. Educational Leadership
View admissions requirements here.
60 units minimum
Tuition Info
3 yrs
The program is intended for working professionals and classes are offered in the evenings and weekends.

Kimberly Word, Program Coordinator

(562) 985-1609

CSU,
Sacramento
Ed.D., Educational Leadership/Transformational Leadership/Critical Policy Analysis and Action/Informed Decision-Making
View admissions requirements here.
60 units minimum
$19,750/year
Tuition Info
3 yrs
Designed for working professionals.
Dr. Julian Vasquez Heilig,
Director, Ed.D Leadership Program(916) 278-2282
Capella University
Ph.D. School of Education
View admissions requirements here.
120 quarter credits
$425 – $790 per credit
3-4 yrs
Liberal transfer policy – up to 48-quarter hours (12 courses)
Stuart Finkelson
Enrollment Director(888) 227-3552 ext. 9044
Claremont Graduate University
Ph.D. and Masters
View admissions requirements here.
72 units
$1,940/unit
4-5 yrs
Designed for working professionals.
Heidi Martinez
Asst. Dir. of Admissions(909) 607-8982
Fielding Graduate University
Ed.D., Educational Leadership & Change – concentrations on Community College Leadership and Higher Education
View admissions requirements here.
101 semester units/$8,740 per term
3.5 yrs
 

(805) 898-4026

La Sierra University
Ed.D. in Administration and Leadership
View admissions requirements here.
87 post MA units/$730 per unit
3 yrs
GPA of 3.5 must be attained for completion.
Cynthia Alvarado
Graduate Admissions Counselor(951) 785-2432
Pepperdine University
Ed.D. in Organizational Leadership
View admissions requirements here.
51 units + 2 units per term until completion of dissertation/ $1,605 per unit
3.5 yrs
Evening/Online hybrid classes
Graduate School of Education
San Diego State University
Ph. D. Education
View admissions requirements here.
Tuition information
3-3.5 yrs
Joint program with Claremont University.
Director:
Rafaela Santa Cruz(619) 594-6544
San Francisco State University
Ed.D in Educational Leadership
View admissions requirements here.
Tuition information
3 yrs
Student learning within a cohort community.
Director:
Dr. Barbara Henderson(415) 405-4103
UC Berkeley
Ed.D/Ph.D Education
View admissions requirements here.
Tuition information
5-7 yrs
 

(510) 642-0841