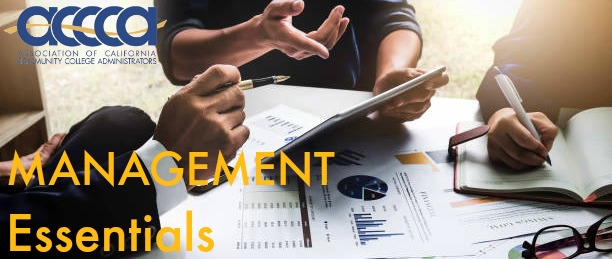 Management Essentials
October 21, 2022
San Joaquin delta College
At this time we are planning on an in person event, should we need to pivot due to COVID-19 we will notify all registered participants.
This one-day regional training was developed based on recent surveys and feedback about the needs of today's community college administrators and encompasses years of research. A key finding that drove the development of this program is that being an effective manager is essential in a political environment, but it isn't enough to be successful.
Management Essentials is intended for those administrators who desire to learn the following knowledge, skills and practices:
How to manage up, down and sideways
How to extend their influence throughout the organization
How to forge strong ties to build momentum
A diverse group of seasoned and dynamic presenters will provide focused training on four topics:
Navigating political landscape
Engaging in crucial/difficult conversations
Teambuilding and motivation
Creating healthy institutional culture
This is an interactive program where participants are encouraged to share their experiences in a safe learning environment.
The $150 registration fee include all materials, breakfast, lunch and refreshments.
June 3, 2022 – San Diego Mesa College
October 21, 2022 -San Joaquin Delta College
Get to know your june 2022 instructors!
Dr. Pamela Luster, President of San Diego Mesa College
Dr. Helen Benjamin, President HSV Consulting and Former Chancellor of Contra Costa Community College District
Dr. Julianna Barnes, President of Cuyamaca College
Dr. Ashanti Hands, Vice President of Student Services at San Diego Mesa College
Dr. Star Rivera-Lacey, Superintendent/President of Palomar Community College District
Dr. Geisce Ly, ACCCA Board Member and Management Development Commission Chair
We will open registration for the October 2022 session soon. 
Keep an eye out on this page for the registration link.