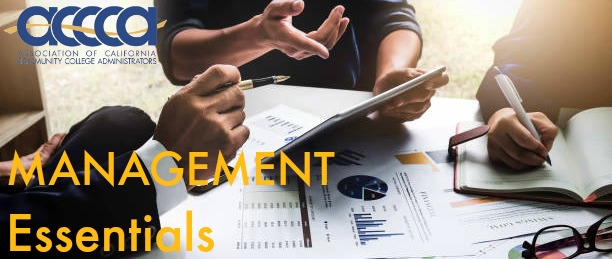 Planning for the next session of Management Essentials is underway. We will have more to share in the coming weeks!
This one-day regional training was developed based on recent surveys and feedback about the needs of today's community college administrators and encompasses years of research. A key finding that drove the development of this program is that being an effective manager is essential in a political environment, but it isn't enough to be successful.
Management Essentials is intended for those administrators who desire to learn the following knowledge, skills and practices:
How to manage up, down and sideways
How to extend their influence throughout the organization
How to forge strong ties to build momentum

This is an interactive program where participants are encouraged to share their experiences in a safe learning environment.
September 22, 2023
City College of San Francisco
We have reached capacity for our venue. We are currently sold out for this workshop.  
Please join the interest list if you would like to receive an email notification when the next session takes place.