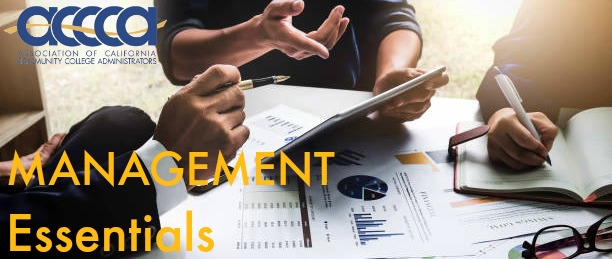 FEBRUARY 21, 2023
8AM TO 4:15PM
RANCHO MIRAGE | PRE-CONFERENCE
The next session of Management Essentials will take place on February 21, 2023 as a pre-conference training. Join us for Management Essentials and stay for the ACCCA Conference (separate registration required.)
This one-day regional training was developed based on recent surveys and feedback about the needs of today's community college administrators and encompasses years of research. A key finding that drove the development of this program is that being an effective manager is essential in a political environment, but it isn't enough to be successful.
Management Essentials is intended for those administrators who desire to learn the following knowledge, skills and practices:
How to manage up, down and sideways
How to extend their influence throughout the organization
How to forge strong ties to build momentum
A diverse group of seasoned and dynamic presenters will provide focused training on four topics:
Courageous Leadership and Conflict Resolution
Insights into Budget Management
Strategic Enrollment Management
High Impact Leadership Tips and Strategies
This is an interactive program where participants are encouraged to share their experiences in a safe learning environment.
Hotel information can be found on our main Conference page.
CLICK HERE for all things Conference!
The registration fee of $175 includes materials, breakfast, lunch and refreshments.
Chris Bonvenuto
Shakerra Carter, Ed.D.
Silvia Cornejo
Dr. Mary-Jo Apigo
Monte E. Perez, Ph.D.
Dr. Jennifer Vega La Serna
Dr. Derek Vergara
Chris Bonvenuto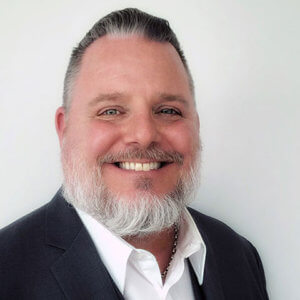 Chris Vonvenuto – Vice President of Business & Administration, Santa Monica College
As Vice President of Business & Administration at Santa Monica College, Christopher "Chris" Bonvenuto is responsible for the leadership and administration of all aspects of business operations, Fiscal Services, budget planning, contracts management, Risk Management, Facilities Planning, and Maintenance & Operations.
His primary duties and responsibilities include evaluating and planning with an eye towards maintaining Santa Monica College's fiscal stability; in addition, he is tasked with providing guidance and direction for financing and borrowing strategies, including general obligation bonds, certificates of participation, tax revenue anticipation notes, etc. Chris oversees the planning and construction efforts for current and future campus facilities as well as maintenance, custodial, and grounds services for the District.
Chris has served Santa Monica College since May 2014 as Chief Director of Business Services. His prior roles include that of Vice President of Administration at Los Angeles Valley College (April 2013-April 2014).
Before that, at SMC, Chris held the positions of Director of Fiscal Services/Associate Vice President and Accounting Manager. At the beginning of his 15-year career, he was also a Senior Accountant/Financial Consultant at the Los Angeles City College Foundation. He holds a Bachelor of Science in Accountancy (Summa Cum Laude) from National University. Chris is a lifelong fan of the Yankees — and the Dodgers!
Shakerra Carter, Ed.D.
Silvia Cornejo
Dr. Mary-Jo Apigo
Monte E. Perez, Ph.D.
Dr. Jennifer Vega La Serna
Dr. Derek Vergara